My Music...Where is it?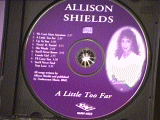 So Many Thanks to the Fans, Radio and friends who have had so much faith in me and have supported me. I couldn't have done it without you all. God Bless you all for bringing me this much closer to my dream.




Mesa, Arizona
Phoenix, Arizona
Prescott, Arizona
Sacaton, Arizona
Taxarkana, Arkansas
Laguna Niguel, California
Sacramento, California
Craig, Colorado
Crawford, Colorado
Loveland, Colorado
Mancos, Colorado
Delray Beach, Florida
Jacksonville, Florida
Melbourne, Florida
Sebring, Florida
Tampa, Florida
Ft. Gordon, Georgia
Hephzibah, Georgia
Boise, Idaho
Monticello, Illinois
Urbana, Illinois
Anderson, Indiana
Cedar Falls, Iowa
Waterloo, Iowa
Elkhart, Kansas
Bowling Green, Kentucky
Owensboro, Kentucky
Baton Rouge, Louisiana
Lubec, Maine
Havre de Grance, Maryland
Ashby, Massachusetts
Dorchester, Massachusetts
Poplarville, Massachusetts
Rogers City, Michigan
Three Rivers, Michigan
Spring Grove, Minnesota
Emerson, Nebraska
Jackson, Nebraska
Omaha, Nebraska
Wakefield, Nebraska
Winside, Nebraska
Livingston, New Jersey
Toms River, New Jersey
Las Cruces, New Mexico
Ranchos de Taos, New Mexico
Perry, New York
Ransomville, New York
Charlotte, North Carolina
Mocksville, North Carolina
Walnut Creek, Ohio
Ada, Oklahoma
Altus, Oklahoma
Colcord, Oklahoma
McAlester, Oklahoma
East Petersburg, Pennsylvania
Johnstown, Pennsylvania
New Cumberland, Pennsylvania
New Wilmington, Pennsylvania
Una, South Carolina
Brookings, South Dakota
Clear Lake, South Dakota
Sioux Falls, South Dakota
Hermitage, Tennessee
Kingston Springs, Tennessee
Murfreesboro, Tennessee
Nashville, Tennessee
Nacogdoches, Texas
Euliss, Texas
Odessa, Texas
Bountiful, Utah
Clearfield, Utah
Clinton, Utah
Corinne, Utah
Hill Air Force Base, Utah
Layton, Utah
Logan, Utah
Morgan, Utah
Ogden, Utah
Plains City, Utah
Pleasant View, Utah
Riverdale, Utah
Roy, Utah
Salt Lake City, Utah
Sunset, Utah
Taylor, Utah
Washington Terrace, Utah
West Haven, Utah
West Jordan, Utah
West Point, Utah
West Valley City, Utah
Fairmont, West Virginia
Sheboygan, Wisconsin
Cheyenne, Wyoming
Medicine Bow, Wyoming
(Radio) Austria
(Radio) Australia
Brisbane, Australia
NSW Sydney, Australia
Arendonk, Belgium
Geel, Belgium
Hulshout, Belgium
Oostkamp, Belgium
Albert Bridge, Nova Scotia, Canada
Edmonton, Alberta, Canada
Halifax, Nova Scotia, Canada
Vancouver BC, Canada
Aalborg, Denmark
Copenhagen NV, Denmark
Hjoerring, Denmark
Kolding, Denmark
Odense, Denmark
Rodoure, Denmark
Roskilde, Denmark
Skovlunde, Denmark
Vejle DK, Denmark
Strasbourg, France
Herford, Germany
(Radio), Holland
Bergen op ZOom, Holland
Italy
Bakel, Netherlands
Venray, Netherlands
Oslo, Norway
Calldetenes, Spain
Mora, Sweden
Tenhult, Sweden
Vimmerby, Sweden
Dover, Kent, United Kingdom

Based on sales dated to June 17, 2000.
..If you know of someplace I have missed...please email me and let me know...I'd like to thank them by including them on this list.
Email Allison

...return to front page.